Camping is one of my favorite outdoor activities, as is road tripping, so when van life exploded onto the seen it was something that made a lot of sense to me. This camping/van life activity has been an amazing experience for many people looking for adventure, a different lifestyle, or just providing a refreshing break from the daily grind.
For many, traditional tent camping is a go-to choice but have you ever considered car camping in a Kia Soul? This compact car offers a surprisingly versatile option for campers, combining affordability, reliability, and adaptability into a cozy mobile home away from home.
While it's not my first choice seeing as how I'm a bigger guy and space is at a premium in a little Kia Soul. So while I'd go with more of a full-sized van, or at least a decent mini-van with some back seats removed, turning one of these compact vehicles into their own version of a mobile home is a route many people have successfully pulled of.
With a bit of planning and creativity, you too can convert your Kia Soul into a comfortable sleeping space. Not only does car camping save you money on lodging costs, but it also offers the freedom and flexibility to explore off-the-beaten-path destinations. So, join the community of Kia Soul camping enthusiasts and get ready for your next adventure.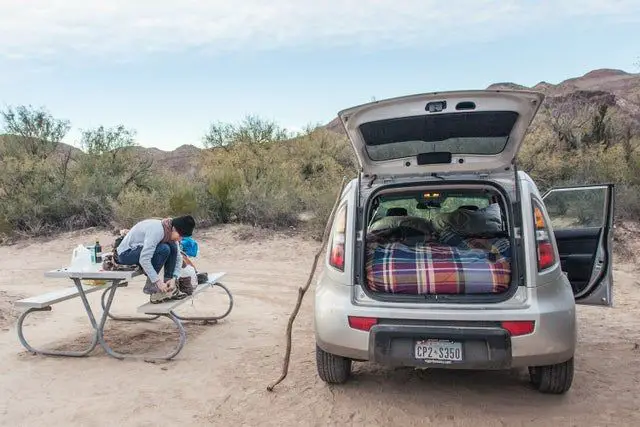 Can You Van Life in a Kia Soul?
Van life has become increasingly popular among young travelers, YouTubers, and adventurers. It's a lifestyle that allows people to live, travel, and explore in the comfort of their own vehicles. But can you take on this exciting way of life with a Kia Soul? Let's dive into the pros and cons of van life in one of these cars to help you decide whether this compact vehicle is the right choice for your adventures.
One of the benefits of using a Kia Soul for van life is that it's easy to drive and park in both urban and rural areas, thanks to its compact size. This also means it has good gas mileage and low maintenance costs, making it a more affordable option compared to larger vans or RVs. Plus, its spacious interior and customizable cargo space allow you to convert the back of the vehicle into a sleeping area, while still having room for your belongings and gear.
However, there are some challenges and drawbacks to living in smaller vehicle. Its limited space means you'll need to be creative and resourceful in terms of sleeping arrangements, cooking, and storing gear. Also, the lack of insulation, ventilation, and privacy might make it less comfortable compared to a larger van or RV. Lastly, there may be potential legal issues or safety concerns depending on where you decide to park or camp.
So how can you find suitable places to park or camp? Some popular apps like iOverlander or websites like freecampsites.net can help you find free or low-cost spots suitable for car camping. However, it's essential to check local laws and regulations before parking or camping on public or private land, as this may vary.
Lastly, always be a responsible van-lifer by leaving no trace and following the campsite rule. This way, you can help maintain the beauty of the environment and uphold a respectful relationship with the communities you visit. And now that you have a better understanding of van life in a Kia Soul, you can start planning your road adventures!
How to Create a Kia Soul Camper: Video Directions
Can You Sleep in a Kia Soul?
Yes, you can definitely sleep in a Kia Soul! The car is designed in a way that it accommodates at least one or two individuals comfortably for sleeping, depending on the specific model and configuration. For many people, this car has always been a popular option for car camping enthusiasts, as it offers ample space when the rear seats are folded down.
Let's take a look at the dimensions and features of different generations of the Kia Soul:
The first-generation (2008-2013) has a cargo volume of 19.3 cubic feet with the rear seats up and 53.4 cubic feet with the rear seats down.
The second-generation (2014-2019) provides a cargo volume of 24.2 cubic feet with the rear seats up and 61.3 cubic feet with the rear seats down.
The third-generation (2020-present) comes with a cargo volume of 24.2 cubic feet with the rear seats up and 62.1 cubic feet with the rear seats down.
There are different ways in which you can turn your Kia Soul into a camper. Some people use an inflatable mattress within the cargo area, such as the Pittman Outdoors AirBedz Lite or the Hikenture Double Camping Pad. Going the inflatable route provides a comfy bed that fits nicely in the back of the car, ensuring you have a good night's sleep. Adding privacy while you sleep is possible by setting up a tent around the car, or simply by using window curtains or sunshades.
Others prefer building a wooden platform that supports a foam mattress or a sleeping pad, like the ones demonstrated by Votive Photography or Travel with Joce. This can offer a more stable sleeping surface and also allows for storage space underneath.
Additionally, if you need more space, you can fold down the front passenger seat and extend the sleeping area with a cushion or a pillow, as shown by whit meza or Juliana. This configuration provides extra room to stretch out, making it even more comfortable to sleep in your Kia Soul.
Remember to choose the sleeping setup that best suits your needs and preferences, ensuring a comfortable and enjoyable car camping experience!
Turn Your Kia Soul into Your Moving Shelter
Transforming your Kia Soul into a mini camper van is easier than you might think. With some creativity, plywood panels, and a bit of elbow grease, you can create a home away from home that is perfect for road trips, remote work, or simply getting away for a while. Here's a brief rundown of how to work on making that transformation.
First, start by clearing out your Kia Soul, removing the rear seats, and any other bulky items to create more space. You may want to remove the front passenger seat as well, depending on your desired layout. Make sure to clean the interior thoroughly before beginning your conversion.
Next, measure out the available space and plan the layout of the space you have to work with. You will want to consider how to best utilize the space, keeping in mind the need for sleeping, storage, and cooking. Remember, this a compact vehicle, so smart-decision making is key.
With the layout in mind, you can now proceed to construct and install the necessary components. Use plywood panels to build a solid, flat floor for better weight distribution and added insulation. You can also use a piece of plywood to create custom storage solutions such as cabinets or drawers.
Simply folding down the seats in the back isn't going to bring the comfort that you want while living the vanlife. So you should consider installing a compact electrical system to power essential devices like a cooler, lights or even a small heater. Solar panels on the roof can be an efficient way to charge your system during the day. Make sure to use appropriate fuses and wiring to avoid any electrical problems.
Now that your primary components are in place, it is time to focus on the comfort aspect. Select a lightweight, comfortable mattress that fits your sleeping space. You may consider raising your sleeping area for additional storage beneath it.
Lastly, for an essential touch of home, consider decorating and personalizing your micro camper van. Add curtains for privacy, rugs for comfort, and any other elements that will make you feel safer and give you your own private space so you can feel like you're safe on the road.
Remember, this is a brief guide, and you can always find inspiration from others who have already done successful Kia Soul conversions. Ultimately, what matters most is making your custom build suited to your unique needs and preferences.
Building the Bed
When car camping in your Kia Soul, the first thing you need to consider is building a comfortable and functional bed. Luckily, with a bit of creativity and some basic materials, you can easily create a sleeping platform that fits perfectly for all your car camping needs.
To start, you'll want to measure the dimensions of the cargo area. This will help you determine the size of the panels you'll need for your platform and the exact cuts you need to make. These floor panels are important to give you the best sleeping experience with your full-size air mattress. Keep in mind that you may need to remove the back seats or fold them down to create enough space for your sleeping platform.
Once you have your measurements, head to your local hardware store and buy a sheet of plywood that matches your dimensions. You may also need to trim it to fit the contours of your car and any custom build plans you have going on. To provide additional support, you can purchase a few 2x4s or other sturdy wood planks and cut them to size as support legs. Make sure the height of the legs suits your personal preferences and allows for storage underneath the platform.
After you've constructed your platform, it's time to think about organization. Utilize the space underneath your bed for storing camping gear, clothes, and other essentials. You can use plastic bins, soft bags, or even custom-built drawers to keep your items organized and easily accessible. Consider using bungee cords or straps to secure your storage containers and prevent them from shifting as you drive.
Next, you'll want to add some bedding. A simple foam sleeping pad or camping pad can provide a comfortable sleeping surface, while a sleeping bag or blankets can keep you warm and cozy. Don't forget to bring your favorite pillow for a good night's sleep.
To further enhance your car camping experience, consider investing in a small, portable tent. This will provide you with extra privacy and protection from the elements when camping in a more exposed area, like a parking lot or the side of the road. Look for a tent that's easy to set up and can be easily stowed away when not in use.
Now that your bed is set up and organized, you're ready to hit the road and enjoy car camping in your newly renovated Soul! Remember to always choose safe and legal locations for your overnight stays, and be respectful of your surroundings. Happy camping!
Putting it Together
So, you're ready to set up your car camping experience in your version of a moving home on wheels. Let's dive right into the process of putting everything together.
Start by placing your sleeping pad on top of the platform you've built or installed in the back. Make sure it fits snugly and doesn't slide off easily. If necessary, use straps or non-slip materials to secure it in place.
Next, it's time to make your bed cozy. Arrange your bedding, pillows, blankets, and sleeping bags according to your personal preferences and the weather conditions. If it's cold, layer up with multiple blankets or choose a sleeping bag with the appropriate temperature rating. On the other hand, if it's warm, opt for lighter, breathable materials to make sure you stay comfortable.
When you need to access the storage space beneath your platform or use your rear seats, simply fold up or remove your bed. Depending on your specific setup, you may need to disassemble the platform or shift it to access certain areas. Make sure you know how your platform works and practice with it to ensure a smooth process when you're actually out car camping.
And that's it! By following these steps, you will transform your vehicle into a comfortable place to sleep during your car camping adventures.
What about Storage Space?
When car camping in a Kia Soul, efficient storage space is crucial. Packing and organization are key to make the most of the available space. To maximize your storage, consider using various containers, organizers, and accessories, such as:
Plastic bins, baskets, crates, or drawers that fit under or behind your bed platform or in your trunk
Hanging organizers, pockets, pouches, or nets that attach to your seat backs, windows, doors, or roof
Roof racks, cargo boxes, baskets, or bags that mount on top of your car for extra storage space
To pack your gear and belongings efficiently and securely, follow these tips:
Sort your items by category, frequency of use, size, weight, and shape. This will help you pack your items in a more orderly manner and know where to find them when needed.
Label your containers with tags, stickers, or markers for easy identification. This will save you time and frustration when searching for specific items during your trip.
Use compression bags, vacuum bags, or ziplock bags to save space and protect your items from moisture, dust, or insects. This is particularly useful when packing clothing, bedding, or other soft items.
Secure your containers using bungee cords, straps, hooks, or magnets to prevent them from sliding or falling while in transit. This will ensure your items remain in place and undamaged during sudden stops or turns.
Don't forget to create a dedicated space for your laptop to avoid damages. You can place it in a padded laptop sleeve or a protective case, and then store it in a secure spot that won't be affected by sudden movements or pressure. By following these tips, you can optimize the storage space to have a comfortable and enjoyable car camping experience.
There won't be as much room as with a larger conventional vehicle but I know plenty of friends who make this work – though keep in mind only the front seats will still remain since the back will be dedicated to safe sleeping arrangements.
Camping Gear
To make your car camping experience in a Kia Soul enjoyable and comfortable, you need to have the right camping gear. No question that you vehicle will be smaller compared to other camping vehicles, but it is still possible to set up a cozy space for sleeping and relaxing.
First, consider investing in a tent. A tent can provide you with additional living space at your camping spot, giving you room for outdoor activities or even a sheltered area to cook and eat. Look for a lightweight, easy-to-set-up tent that can accommodate the number of people in your group.
Next, you'll want to have the proper sleeping gear. A foldable sleeping platform, along with an inflatable mattress, sleeping bag, or sleeping pad, is essential for creating that comfortable space. Make sure to bring pillows and blankets to keep you warm and cozy during the night.
When it comes to devices, consider investing in a portable power station or solar panels to keep your electronics charged while on the go. This way, you can ensure that your phone, GPS, and other electronic devices are always ready when you need them.
For your cooking needs, you might want to bring along a portable stove or a camping cookware set. Also, consider packing the following items:
Cooler or portable fridge
Collapsible water containers
Biodegradable soap and cleaning supplies
Foldable camping chairs and portable table
Lastly, consider bringing along some outdoor gear for entertainment or relaxation during your car camping trip. This could include:
Board games or a deck of cards
Hiking gear (hiking boots, backpack, trekking poles)
Binoculars for bird watching or wildlife spotting
Portable hammock
Portable Power Station
A portable power station is a battery-powered generator that provides electricity for your devices and appliances while car camping. In fact this is just great for any long-term travel, drifting, or adventuring. This handy device can charge or power your phone, laptop, camera, fan, heater, cooler, lights, and other electronics. You can recharge the portable power station by plugging it into a wall outlet, a car cigarette lighter, or even a solar panel.
Portable power stations can vary in capacities, outputs, and features depending on the model and brand. You'll need to do the research to make sure you to choose a suitable portable power station that meets your needs. Here are a couple of examples:
Jackery Explorer 240: This power station has a capacity of 240 watt-hours, two AC outlets, two USB ports, and one DC port. It weighs 6.6 pounds and measures 9.1 x 5.2 x 7.8 inches. The Jackery Explorer 240 is compact and portable, making it a great companion for your car camping adventures.
Ecoflow River 288: The Ecoflow River 288 wh offers 288 watt-hours, four USB ports, one AC outlet, one DC port, plugins, and solar panel optional attachments to allow for silent regeneration of solar power over the long-term, which is a big plus for me. The large capacity, solar panel add-ons for sunny days in a good spot both make this one of my personal favorites and it's very portable at 7.5 x 5.9 x 5.5 inches.
Remember to consider your specific needs and the devices you plan to use while selecting a portable power station. This way, you can enjoy your Kia Soul car camping experience without worrying about running out of power.
Roadie Overnight SUV Window Tent
A Roadie Overnight SUV window tent is a fantastic accessory that you first-time long-term car campers won't want to forget or skip out on. This fabric cover fits over your rear window, providing a gap between the glass and the cover. What's great about this accessory is that it allows you to roll down your window, letting fresh air in while keeping bugs and rain out.
Not only does the Roadie Overnight SUV window tent provide excellent ventilation, but it also offers privacy and added security. The fabric blocks out light and noise, as well as prevents passersby from seeing inside your car.
The Roadie Overnight SUV window tent is made of durable polyester fabric, featuring mesh screens and magnets for a secure and bug-free fit. It's incredibly easy to install and remove, with no tools or modifications required. Plus, it comes in various sizes and colors to suit your vehicle's dimensions and style.
So, when planning your Kia Soul car camping adventure, consider adding the Roadie Overnight SUV window tent to your gear list. This handy accessory will not only improve your comfort, but also enhance your overall camping experience.
Portable Fan with Power Bank
A portable fan with power bank is a battery-operated fan that also functions as a power bank to charge your devices. This handy gadget provides cooling and charging capabilities. These fans can be placed on a table, hung on a hook, or clipped to a car vent or window. Depending on the model and brand, a portable fan with power bank will have different speeds, modes, and angles.
For example, the OPOLAR 10000mAh Rechargeable Fan has a capacity of 10000 milliamp-hours, four speeds, three modes, and a 360-degree rotation. It weighs 1.1 pounds and measures 7.9 x 5.9 x 3.9 inches. This fan is lightweight and versatile, making it an excellent choice.
Another option is the COMLIFE F170 Clip On Fan. This fan has a capacity of 4400 milliamp-hours, three speeds, two modes, and a 360-degree rotation. It weighs 0.6 pounds and measures 8.3 x 5.9 x 3.9 inches. Its compact size and clip-on feature make it a great choice, as well.
In summary, a portable fan with power bank is a convenient solution for keeping cool and charging your devices during car camping adventures in your Kia Soul. Just remember to choose a fan with the right features and size that suit your needs.
Roof Crossbars
Another one of the essential accessories to consider is a set of roof crossbars. These versatile bars allow you to securely carry extra cargo, a kayak, or even a rooftop tent, freeing up valuable space inside your car for a more comfortable camping experience.
For the 2021 and 2022 Kia Soul models, you can opt for the official crossbars, which are part number K0F21 AU000. They provide a secure base for all roof attachments and have a load limit of 165 lbs (evenly distributed). Keep in mind that these are not applicable for the X-Line model.
While the official Kia crossbars are a solid option, you can also explore alternatives like the Rhino Rack Vortex Aero system. Some users have found this to have better quality and design over other aftermarket options, such as the Erkul brand. When purchasing the Rhino Rack Vortex Aero, be sure to choose the appropriate crossbar length for your specific Kia Soul model.
After selecting your crossbars, installation is the next step. While some systems can be a bit complicated to install, taking your time and following the included instructions will ensure a secure and effective setup. Remember that properly attaching your cargo and evenly distributing weight on the crossbars is crucial for safe transport and vehicle stability while car camping.
Equipped with a sturdy and reliable set of crossbars on your Kia Soul, you're one step closer to having a fantastic car camping experience. Next up, exploring additional accessories and gear to make your journey even more enjoyable!
Lighting & Blackout Screens
When car camping in your Kia Soul, one of the essential aspects to consider is lighting and blackout screens. Lighting plays a crucial role in setting the ambiance and providing visibility during the night. On the other hand, blackout screens offer privacy, safety, and comfort by blocking external light.
For lighting, there are various options available, such as battery-powered LED lights, solar-powered lanterns, and USB rechargeable lights. Choose the one that best suits your needs and preferences. Portable lights are great since they can be easily hung or placed around your camping area, providing the right amount of illumination.
You can also get creative by using fairy lights or LED strip lights to add a touch of personalization and style to your camping setup. Some portable lights come with adjustable brightness settings, allowing you to control the level of light output to suit your mood and activities.
As for blackout screens, there are two main approaches you can take – either purchasing ready-made screens or crafting your own. You can find a variety of car window shades and blackout curtains available online or in stores, specifically designed for car camping use. These products offer privacy, safety, and help you sleep better by blocking out external lights.
If you prefer a DIY approach, you can create custom blackout screens using materials like Reflectix, fabric, or cardboard, cut and shaped to fit your Kia Soul's windows. Simply attach the screens to your car windows with suction cups, Velcro, or magnets, ensuring they provide adequate coverage and can be easily removed when needed.
Remember to also consider the ventilation of your Kia Soul when using blackout screens, as good airflow is essential for a comfortable and refreshing camping experience. With the right combination of lighting and blackout screens, you'll be able to create an enjoyable and cozy atmosphere within your Kia Soul during your car camping adventures.
Pros/Cons of Camping in a Kia Soul
Pros:
Affordability: Camping in a Kia Soul is a budget-friendly alternative to purchasing a pricey caravan or recreational vehicle. You can save money on accommodation and reduce vacation costs by car camping instead.
Mobility: While you don't have the off-road abilities of a truck, you can travel more cheaply and you still have that vehicle-based mobility that allows you to explore different destinations and campsites with ease. The compact size of the vehicle means it's perfect for navigating through cities or off-the-beaten-track locations.
Flexibility: Converting your vehicle into a makeshift tent gives you the freedom to camp wherever you please, without being restricted to designated campsites.
Easy set-up: Setting up a tent or campsite can be laborious, but converting your Kia Soul for sleeping is as simple as folding down the rear seats and laying out your sleeping gear.
Minimalism: If you're a fan of minimalist travel and living, camping in a Kia Soul may be a fitting lifestyle choice.
Cons:
Limited space: This is a compact vehicle, which means that space is limited. This can make sleeping and storage challenging, especially for taller or larger individuals.
Lack of amenities: Obviously, unlike a decked out RV, these vehicles don't come equipped with a kitchen, bathroom, or other amenities you may desire while camping. You'll need to rely on external facilities or get creative with your camping gear.
Weather dependency: Camping in a car, including a Kia Soul, can be more challenging in extreme weather conditions like heavy rain or snow. You might need to invest in insulation and heating accessories to ensure a comfortable sleeping environment.
Privacy concerns: Sleeping in a car may give you less privacy than a traditional tent or big vehicle setup. Ensure you have window coverings and park in safe, secluded areas to maintain privacy during your trip.
Legal restrictions: Depending on where you are traveling, different regulations may apply for car camping, and you should always check local laws and regulations before setting up camp.
Frequently Asked Questions
What's the Best Air Mattress for Camping in a Kia Soul?
There is no one-size-fits-all answer to this question, as the best air mattress for your Kia Soul will depend on your preferences and budget. Consider the size and shape of your car's interior, and look for something specifically designed for car camping. Some popular options include the AirBedz Lite and HIRALIY Car Air Mattress.
Remember to check customer reviews and ensure you're getting the right size so it fits comfortably around everything else that is going to be setup in your back of vehicle living space.
How Can I Build a Sleeper Setup inside My Kia Soul?
To create a sleeper setup inside your Kia Soul, follow these steps:
Remove or fold down the rear seats to create more space
Measure the dimensions of the available space
Purchase or build a platform that fits these dimensions, ensuring it's sturdy and can support your weight
Add a comfortable and supportive sleeping pad, sleeping bag, or air mattress on top of the platform
Bring along pillows, blankets, and other bedding for added comfort
There are YouTube tutorials and blog posts available that can give further guidance on building a Kia Soul sleeper setup, such as "Kia Soul Car Camping: My Platforms."
Are There Any Kia Soul Compatible Camping Tents?
While there may not be a specific tent designed exclusively for a specific care, there are a variety of universal car camping tents that may be compatible. Look for tents with adjustable attachments to fit the unique shape and size of the Kia Soul. Some popular options include the Napier Sportz Cove and the Rightline Gear SUV Tent.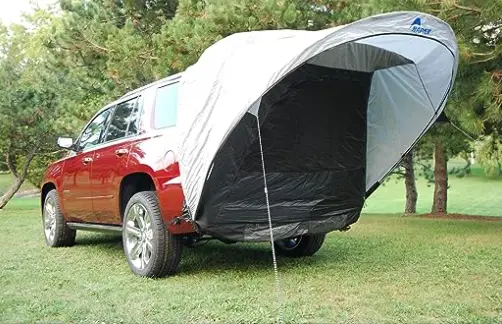 What's the Best Way to Camp Inside a Kia Soul?
To have a comfortable and enjoyable car camping experience inside a Kia Soul, ensure you have all the essentials you need, such as a comfortable sleeping setup, food, shelter, and entertainment options. Plan ahead, know where you'll be camping, and make a list of necessary supplies. Remember to properly ventilate your car when sleeping inside and respect any regulations or restrictions set by the campground or camping area.
Any Tips for a Successful Car Camping Experience in a Kia Soul?
For a successful car camping trip, keep the following tips in mind:
Keep space-saving in mind by using compact gear and carefully organizing your belongings
Invest in a good-quality car camping mattress for comfortable sleep
Bring a power inverter to charge your devices, if needed
Use window shades for added privacy and temperature control
Stay organized by categorizing your items into categories like food, shelter, sleeping, and entertainment
How Does the Kia Soul EV Fare for Car Camping Nights?
The Kia Soul EV (electric vehicle) can be a suitable option for car camping nights. Since it's an electric vehicle, it produces no emissions, allowing you to camp with minimal impact on the environment. The range and charging options should be considered when planning your trip, especially in remote locations where charging stations may be scarce.
Just like with the regular Kia Soul, remember to bring along your essential camping gear and plan for sleeping accommodations inside the vehicle or using a compatible camping tent.
How Do I Handle Keeping Clean?
There are portable solar showers that are a favorite with long-term travelers and are a good way to take care of that when you can't find any at a campsite. For toilet stuff you just don't have the space of a full van so you are more dependent on finding toilets that are open for use or campsites that have amenities.
How Do I Know if My Setup Is Good?
Camp locally several weekends before taking that huge road trip to Yellowstone, Jackson Hole, or other incredible parks throughout the U.S. and Canada. This lets you get used to your vehicle home and you can spend the night in safe areas close to home so if something goes wrong or you don't like the setup, at least you're sure and can revise your platform build before heading out a long way from help and home.
Is Kia Soul Camping Right for You?
This type of lifestyle isn't for everyone and truth be told if I was going to do it, it would be with a larger vehicle, however so many people absolutely love Kia Soul camping to the point where there are forums, Facebook groups, and more, so when you have that many people extolling the virtues of the practice then you know there's something to it.
I have a couple friends who did this for a summer and loved it, and tip of the hat to them for the helpful advice to write this article, so if this is something you're considering – don't let anything stop you!
Other Outdoor Articles You May Love