There are some pretty amazing options for shipping goods, and just how many options you have when sending the perfect gift to a friend, loved one, or family member. When it comes to something like a fishing rod or custom fishing rod, the long shape that doesn't exactly work well with mail boxes or PO boxes, and even two piece fishing rods require special attention to prevent damage and unless it's a telescopic fishing rod, you still need a longer box or shipping container.
Multiple options for shipping fishing rods include cardboard tubes, wrapped rod carriers, and PVC pipe however most of the time the PVC pipe secured with clear packing tape is the best option for safely shipping and protecting your fishing rods while in transit.
While two-piece rods have more options, and there are non-PVC options for shipping long one piece fishing rods, but without question when it comes to a combination of durability, protection, and overall effectiveness in shipping, the PVC-pipe method is the way to go. We'll take a look at the main options for shipping fishing rods, the pros and cons of each, and any special tips or exceptions you need to know about before shipping off a rod via post.
Let's get started!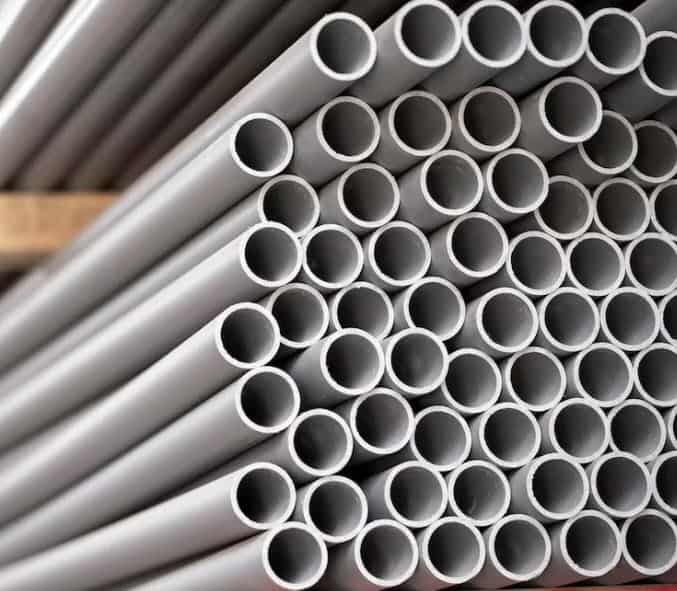 What Is The Best Way To Ship a Fishing Rod?
There are a few main options when it comes to shipping fishing rods. The first thing to address is proper packaging. Forget boxes. You want a shipping tube of some type, something that is durable, sturdy, and properly designed for shipping something like a fishing rod without being easily crushed, squished, or otherwise damaged.
A rod case or shipping tube can both be used for shipping. Even with these, you should have the rod (especially the tips) wrapping in bubble wrap, inside foam padding, or both, to make sure everything is fully secured.
Multiple factors to consider include:
Is it a one-piece or two-piece fishing rod?
Style of fishing rod and if it comes with or without reel
Properly securing the fishing rod
Proper fees, insurance, and postage paid
These are just some of the factors that need to be taken into account before shipping a fishing rod through the mail. The one piece fishing rod versus two piece fishing rod is an especially important argument because the two piece rods have more options for shipping. Obviously there are fewer potential issues when looking telescopic fishing rods, which can be broke down into a smaller size to make shipping much less difficult from a size perspective.
Important Shipping Advice: Make sure to pay extra for insurance, or if you're a business, signature receipt/tracking. Good fishing rods aren't cheap and you want to protect yourself, and the recipient, of the fishing rod. This isn't an area you want to cheap out in.
Shipping a One Piece Fishing Rod
The biggest challenge with shipping a one piece fishing rod is going to be the odd size in comparison to your average shipping package. There aren't a lot of boxes or shipping tubes designed for something that length because let's be honest: this is definitely a niche item when it comes to shipping.
There are many more two-piece fishing rods and telescopic fishing rods than one piece rods, which means there are also more shipping options designed for those first two. However, if you are going with a solid one piece, which many anglers prefer (and are likely to get if they are having a customized fishing rod made for themselves) then you need to go with the PVC pipe route because it's sturdy and should not take any damage from regular handing.
In fact, it would take a beating to do any damage to that type of packaging.
But what are all the options for shipping one piece fishing rods?
Poster Tubes
Poster Tubes can be a great way to ship a one piece rod, but since these usually don't come in 7 or 10 foot lengths, you will need to do a little bit of work to make this solution work. Even if you get larger poster tubes, these generally won't be as good as using the method in the video below which involves cutting and connecting tubes, using extra shipping tape to connect and stabilize those connecting points.
When done properly this can create a strong, long shipping container that is much more likely to remain together and protect your fishing rod as opposed to a one piece cardboard poster tube.
The video below shows how to do this step-by-step and while it can take a bit of work, it's not hard at all. Resellers and eBay shippers probably already have all the materials on hand to take care of it.
PVC Pipe
In my mind this is without question the best way to ship a fishing rod and make sure it is safe and undamaged when it arrives at its destination. Use clear masking tape to tape up caps at each end of the pipe and to put the shipping label on it.
IMPORTANT: Make sure that the clear tape isn't over any bar code that needs to be scanned as this can prevent UPS, Fed Ex, or USPS from being able to track and ship the fishing rod.
PVC pipe is going to be much stronger than cardboard and it is incredibly unlikely to be damaged. Since PVC pipe is designed for so many uses you can cut it to the size you need and it comes available in sizes that means even a 9 or 10 food rod can be properly bubble wrapped around the eyes and the tip, sealed in the PVC pipe, and mailed without worry.
Shipping a Two Piece Fishing Rod
There are more options for shipping two piece fishing rods. You can cut PVC pipes into smaller sections than you would need with a one piece fishing rod, or in this case there are longer US Postal Service boxes that are long enough to ship two piece rods, giving a wide variety of options.
Poster Tubes
Poster Tubes can be a great way to ship two piece rods. You still want to use bubble wrap to protect the tip of the fishing rod and the eyes, but if you package everything carefully these can be a very viable way to ship fishing rods with very few problems.
Just make sure to take the time to carefully line up the eyes of the two halves, and then bubble wrap the two pieces together to prevent any potential incidental damage from shipping. By working on having the two pieces together you can set them in a way so the eyes of the fishing rod will be less likely to be damaged and you will know they fit in these relatively thin tubes, which is a bigger issue if you try to bubble wrap each section of the two parts individually.
Need Supplies? Re-stock from Amazon!
US Postal Shipping Boxes
There are longer shipping boxes from the post office, look for the Dual Use boxes that are around 25 inches in length, and those are good enough for most two piece fishing rods. This is convenient, but you will still want to make sure to use bubble wrap and properly wrap them. This is convenient but then there is an important question: do you trust the stability of the boxes?
While most packages get shipped without any problems, when you have something as expensive and yet potentially fragile (in certain situations) as fishing rods, it's important to protect your investment. As with any shipping option, insurance is a must, but these can be a legitimate option for shipping two piece fishing rods.
PVC Pipe Is Still An Option
One of the nice things about PVC pipe is the versatility. You can always a cut a long piece into a smaller two and then just cap them, so using PVC pipe shipping option is still 100% viable for shipping a two piece rod, and might even be ideal if you are shipping multiple rods and need a little bit more space in the tube to get them all in, wrapped, and ready to go.
There's a reason that PVC pipe is a go-to option for shipping fishing rods for many custom rod makers.
The Importance of Good Padding & Cushioning
While being shipped good padding is important. I've never had a problem if I've wrapped the eyes of the fishing rod in bubble wrap, as well as the tip, and many anglers I've talked to also suggest wrapping the very bottom of the rod (more to keep it from jolting versus concern for the base).
Some other people I've talked to have packed foam insulation on both sides or wanted to fill the excess space with packing peanuts, but I've never found this to be necessary. If the more fragile sections of the rod are wrapped in bubble wrap then you should be pretty much good to go in my experience.
Label the Package Clearly
This should be obvious, but I've heard horror stories of packages being lost because they used washable marker, smeared the ink from a gel pen, or otherwise made the shipping address impossible to read. Even if you usually rush through hand writing, it's a good idea to slow down and print as neatly and carefully as possible. Remember, it's always easier to read something when you know what it's supposed to say.
Just because you can read your sloppy hand writing when you know what the address is, doesn't mean that the post office will be able to…and since they're handling the shipping that will be an obvious problem.
Always Insure Your Fishing Rod Before Shipping
For a few extra dollars you can protect yourself and the recipient, so why wouldn't you spend that money? Whether a gift, shipping to a client, or even sending it ahead so you have it on hand elsewhere, make sure to get insurance so if something does happen, you're not out the cost. Which for a fishing rod can be several hundred dollars or it can be even more if you are shipping several of them at once.
Can You Use a PVC Pipe to Ship a Fishing Rod?
This is a creative idea and yes, the Post Office and other shipping companies will ship long tubes. This is, in fact, the way that my Dad shipped a custom fishing rod he made by hand (his 15+ year hobby and side business at this point) and since he only makes full-sized one piece fishing rods, you know that had some length to it!
That pretty much makes him a professional in both making and shipping custom fishing rods and PVC pipe is the right type of flexible but firm to provide protection for fishing rods. Even better, UPS, USPS, and FedEx will all ship PVC pipe packaging meaning this is a valid and relatively affordable way to safely ship fishing rods without damaging them.
In fact, this is the very method my Dad (who has spent nearly a decade making custom fishing rods) used to make a custom fishing rod for me as a birthday present and to ship to customers who order from him online, or locals who want to ship a fishing rod to family or friends across the country.
Heavy piece of PVC pipe sealed with clear packing tape on the ends, wrap the fishing rod in bubble wrap, taking special care to properly wrap and protect the tip. That's what I used to ship you your fishing rod for the birthday and it works well when you have to ship one-piece rods safely. It's a touch expensive, but it gets the job done.

Lee Dayton, LMD Custom Rods, makes, sells, and ships custom fishing rods
You will need to print out a label for the address and connect it with tape to allow for shipping, but this is easy enough to do. The key is making sure it is solidly attached so there's no chance of that coming loose. Both caps should also be taped.
Because of the awkward shape and size shipping does tend to be a touch on the expensive side, but the PVC pipe adds an extra strength of protection that even the strongest poster board tubes would be very hard pressed (or impossible) to match.
Shipping Fishing Rods: The Verdict
There are plenty of great ways to safely ship fishing rods. While shipping is going to be a bit more expensive because of the extra length and packaging involved, these options are great because they protect the fishing road and make it possible for you to ship any type of fishing rod all the way across the country.
While I personally prefer the PVC pipe method of shipping fishing rods versus the poster tubes regardless of the fishing rod type – both are viable potential options. The most important part is using the shipping options that will keep your fishing rods safe while being shipped and that you have confidence in your ability to properly pack the rods using that method.
While this can take a little bit more effort than shipping your average package, the work is definitely worth it.
Other Fishing Articles of Interest: